The Suzuki V-Strom 650 is a mid-size touring motorbike, meaning that it's capable of sitting in traffic during daily commutes but is also comfortable enough for longer weekends away and even going on dirt tracks and poor road surfaces if your adventure takes you that way. There are a few different versions of the bike, the 650, the XT, and the XT Adventure, which all have slightly different tweaks to the design to focus on different riding demands.
The V-Strom (also known as the DL 650) was first introduced in 2004 and was designed to offer riders a sturdy bike that could provide a comfortable ride across a wide range of terrains.
Updates in 2007 brought a slight redesign to the panels and look of the bike and a better engine and fuel injection system to produce more power and better fuel efficiency. In 2012, a new ABS and an updated suspension system were installed – keeping the tech up-to-date and suitable for poorer road conditions. In 2020, the electrics were overhauled, the fuel tank was redesigned, the exhaust system was updated, and an improved traction control system was implemented.
So, what has 2023 brought to the bike? Mostly, it has been re-released with some colour changes. As a new 700cc Suzuki adventure bike is waiting to appear, it's understandable the manufacturer hasn't done more to the V-Strom 650; however, it does put this bike potentially behind competitors.
Overall, it is considered a roomy, comfortable bike that will suit many different riders and riding styles. It's a fun enough ride to satisfy long-term riders but a good allrounder for riders with less experience to enjoy and have as their main bike.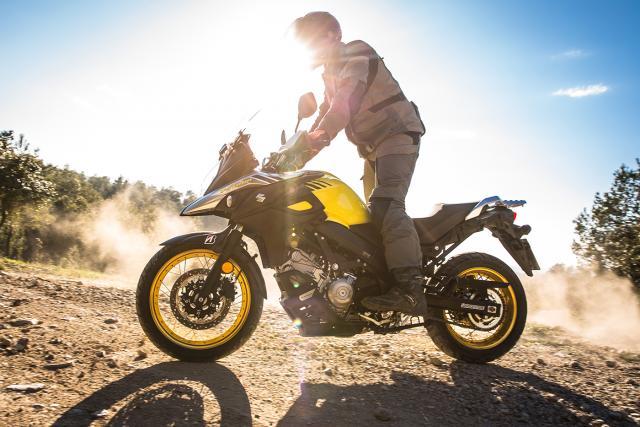 Pros and Cons
A strange pro for this bike is that the engine is still the same – a 645cc DOHC v-twin design. This could easily be a con in another bike, as the engine is quite dated at this point. However, all the tweaks and changes implemented over the years have meant this engine is incredibly flexible and great for the type of use the bike might be put through. It can sit happily at low speeds for long periods of time, but the power is still there when you need or want it. Plus, it's delivered smoothly – so you feel unleashed rather than worrying that the bike will leave you behind.
Importantly, the fuel injection system and engine technology employed also mean that this bike has great fuel efficiency and the emissions can be reduced at lower speeds – so it meets current EU regulations.
The suspension setup for this bike allows you to adapt the bike to your riding comfort and style, as well as to the road conditions you're likely to meet. However, the system hasn't been updated, and there are many more hi-tech and crucially more adjustable systems available nowadays. You might find the system works for you (it can take passengers or other heavy loads, no problem), but if you're aiming for more rugged terrain, you'll likely find you need a better setup.
The same can be said for the brakes. They're decent brakes with a solid ABS, which comes as standard across the versions of the bike (and can't be turned off). However, they're quite dated compared to other mid-size adventure bikes. On the other hand, a test by MCN found the V-Strom could completely stop from 60mph in 37m, so they're still effective, and Suzuki probably saw no reason to upgrade.
Sell Your Suzuki V-Strom
If you want to upgrade your bike to one with the latest tech and features available, then why not contact us today?
Our friendly team is always happy to chat. Contact us and see how much you can get for your V-Strom and start moving towards the bike of your dreams!