People who have never ridden a motorbike before have still probably heard of the Suzuki Bandits. So why are they so popluar? Let's take a look.
Suzuki Bandits are hugely popular, even getting near cult status. Of the top ten bikes people wanted to own, a bandit would be somewhere on the list for everyone. In fact, the Bandit 600 was so overwhelmingly popular that it inspired an entire class: budget middleweight roadster.
Models in the Series
GSX150, 147 cc liquid-cooled (2018–present)
GSF400, 398 cc liquid-cooled (1989–1997)
GSF250, 248 cc liquid-cooled (1989–2000)
GSF600, 599 cc SACS (1995–2004)
GSF750, 748 cc SACS (1996–1999)
GSF1200, 1,157 cc SACS (1996–2007)
GSF650, 656 cc SACS (2005–2006), 656 cc liquid-cooled (2007–2016) – This replaced the Bandit 600 (GSF600)
GSF1250, 1,255 cc liquid-cooled (2007–2016)
Overview
The Bandit series started as a 'still good, but old' engine (from the Suzuki GSX600F), which no longer cut it for a sports bike, and was slotted into a basic chassis fit for a roadster, then kept as budget-friendly as possible. The result is a series of bikes that motorbike enthusiasts went crazy over. They were fantastic all-rounder bikes, suitable for pretty much any journey, and great everyday bikes. They also appealed to beginner riders – they were user-friendly, unfussy machines, and the budget was great for a first proper bike.
There was little difference between the early and later models. The chassis had one particular update, and the tyres were also improved. A large drawback across all the models was the quality of the brakes, they needed good quality aftermarket pads added, as well as braided steel hoses. Otherwise, they were just a bit too poor.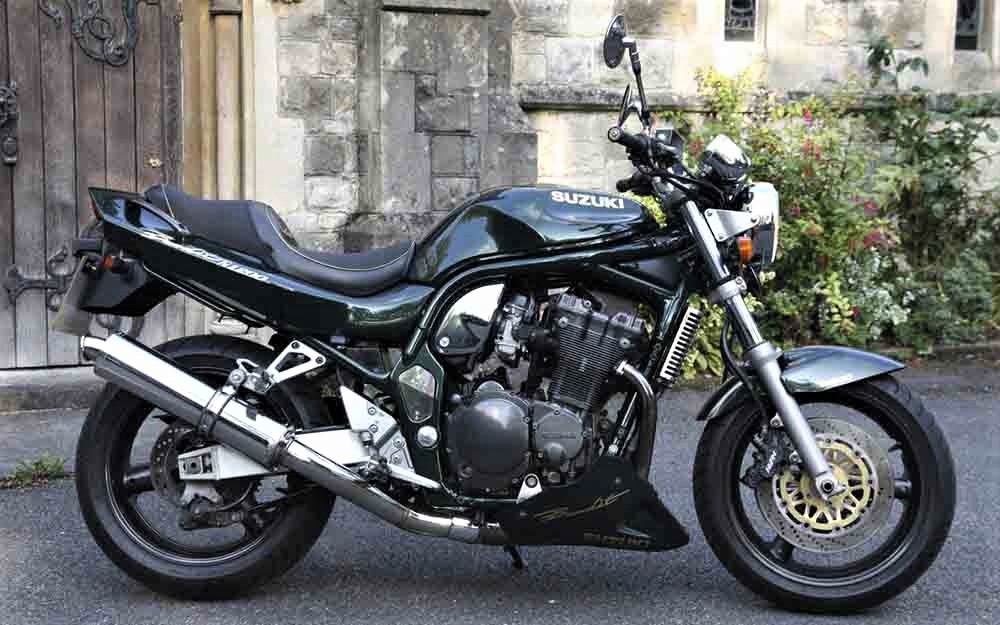 The chassis was a steel-tube cradle format with non-adjustable suspension – basic, but it did the job. However, the suspension was definitely on the soft side, and the rear shock absorber quickly wore out.
The leading greatness of the Bandits came from the fact that although it was a budget bike, it was not made cheaply. Suzuki has always been a stand-out manufacturer in the world of motorbikes, and all the parts used were proven high quality in other bikes before being used in the series. They're incredibly reliable with very little going wrong and are easy to repair. Owners who have had the bikes for several decades report the standard corrosion problems, but otherwise, it's still a good go-to bike. Which really says a lot about its reliability.
However, when buying second-hand, you need to watch out for the Bandits that have been thrown around a lot. Given these were so popular and gave great power and performance for their budget, they were often used as stunt bikes or street racers. Easily made superficially good again after a crash, but not something you want to ride.
Selling Your Suzuki Bandit
There's still a thriving market for buying and selling Suzuki Bandits. Earlier models with the cheaper suspension and brakes, are less sought after and will generally have a lower price than the later models with all the improvements.
Contact us if you want to get the best price for your Bandit and keep it going in the hands of a Bandit enthusiast. Whether it's finally time to say goodbye to an old friend or you're eagerly hunting out the next dream bike on your list, we can help you get back on the road with a new bike in no time.