The 125cc motorbikes are the most popular learner category of bikes. However, once you've got a bit of experience under your belt, it's doubtful you'll want to stick with such a small engine. So, you need a bike that will do its job well at a great price, given that you'll upgrade quickly.
Below are the top ten 125cc motorbikes around £2k for 2023 grouped by manufacturer.
Lexmoto ZSB 125
With a minimalistic design and a 4-stroke engine, the controls are easy to use – great for a beginner, and it has a comfortable riding style and a little luggage rack, too. It has a large 15-liter fuel tank, so taking it on trips shouldn't be a problem. As it has a few sought-after features like combined braking and telescopic front forks, this bike is also enjoyed by more professional riders.
Lexmoto Assault
This bike has similar features to the ZSB, with a large tank and telescopic forks – plus the same comfortable riding style. However, it's designed to be more of an adventure bike, able to take on a wider range of terrain types.
Lexmoto Michigan
The key takeaway for this bike is laidback comfort – the gear shifts are smooth, the footplates are large, and the riding style is almost tourer-class. This is an easy bike to take on weekend trips and enjoy the road; it's also a great bike to customise and make your own.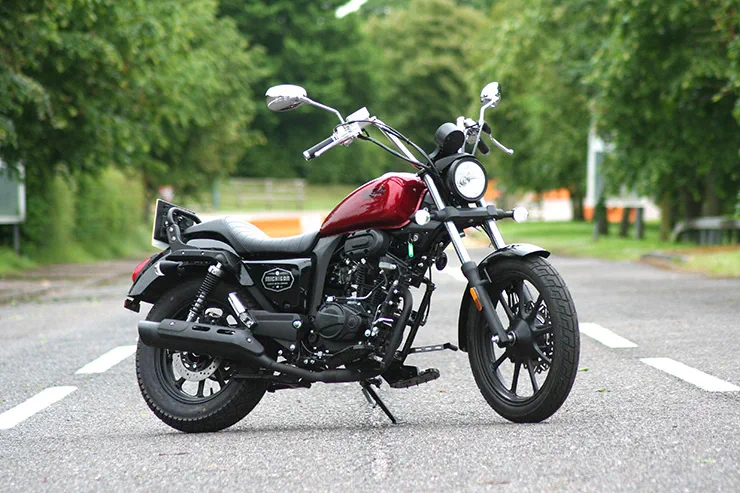 Bluroc Heritage 125
This bike is incredibly compact – perfect if you don't have much extra room at home. The wheel size is small and compact, and even the handlebars fold. However, it has been upgraded to current standards and has hydraulic suspension and fuel injection. It'll give you a lot of fun in a small package.
Bluroc Legend 125
A retro-looking scrambler with a fantastic power-to-weight ratio, it's light and easy to handle but sturdy enough to take whatever you throw at it.
WK Scrambler 125
Another retro-styled and lightweight scrambler. It has a good selection of modern tech, which is easy to use, so it shouldn't feel dated. It also has good deep tread tyres, so it will handle a large range of terrains comfortably.
WK Maveric 125
Again, this WK bike has a fantastic selection of gadgets and features, giving this learner-friendly bike a grown-up and longer lasting feel. It is also lightweight, making it easy for less experienced riders to handle, and the seat is low, so it's easy to get both feet on the floor for most riders.
Keeway X-Light 125
If racing bikes appeal to you, then have a look at the Keeway X-Light. It has more of a punch to its engine than other bikes in the 125cc class, but it is still tuned to city riding, so it should suit your daily needs.
Keeway Superlight LTD
The difference between this bike and the X-Light is that the Superlight LTD is designed as a cruiser. It's got a great ergonomic design and offers mile after mile of comfort. It also looks more like a big bike than others on this list. The reliability of this bike has made it one of the best-selling 125 cruisers lately.
Zontes ZT125 Mantis
The bike has been popular with beginner riders for many years and has been recently upgraded to suit Euro 5 regulations. Simply put, it does what you want it to do – it's a great everyday bike. Even some of the more experienced riders turn to the Mantis for recreational rides.
Sell Your 125cc Motorbike Today
If you would like to sell your 125cc motorcycle today get in touch with SellYourBikeToday.com!
We don't send automated quotes, we are real humans who want to give you a real evaluation.