Suzuki is a well-known motorcycle manufacturer – in fact, they're a go-to brand the world over. Why? Because they sell well-built, high-quality, fun bikes at affordable prices. They also have a reputation for being reliable – needing fewer or less costly repairs than similar brands.
In this blog, we're going to be looking at the SFV650 Gladius in particular.
Background
The SFV650 Gladius was introduced in 2009 as a replacement for the SV650. It had upgraded looks and a better engine, focusing on fuel economy and lower emissions. The engine also had 10% more power, so Suzuki really did what they do best, they kept all the excellent parts of a machine and improved it even further. The seat height was also lowered to 785mm. It was replaced in 2016 with the SV560, but Suzuki didn't make many more improvements.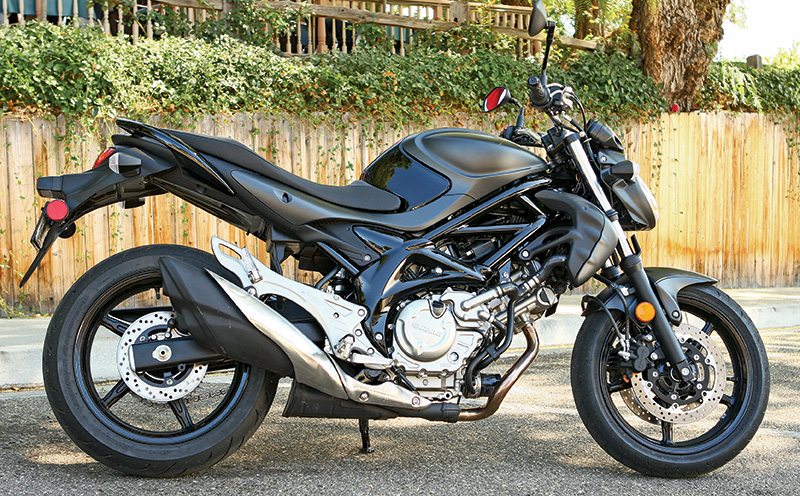 Who Is It For?
This bike is fundamentally designed for people who are new to motorcycles and riding bikes in general. The 4-stroke, V-twin 650 engine is great, but it's not going to intimidate anyone. The seat position is comfortable and secure, again, brilliant for beginners. The lowered seat makes it easy to get both feet on the floor when stationary and gives a lot of control over the bike's handling – however, you might be pleased to hear that it's not uncomfortable for taller riders. Suzuki has managed to get that balance just right.
Although the handling is smooth and makes this a really nice ride, the bike actually comes in at over 200kg. The weight comes from the production. In order to keep the overall cost of this bike as low as possible and a classic affordable Suzuki, they chose materials sacrificing the weight.
The smaller engine, combined with the weight, this isn't going to be the sportiest of rides out there. However, the only time you'll notice the bike struggling is at high speeds in top gear – so this bike will pretty much do whatever you ask of it without any fussing.
However, most agree that although, overall, it's easy to ride and, therefore, great for beginners, it's also just a really fun bike to ride, so it appeals strongly to more experienced riders too.
We mentioned build quality in the intro, and it's worth coming back to. Suzuki is well-known for the quality of their bikes, both for the build and maintenance. The previous incarnation, the SV650, was a solid bike and raced in the Mini Twin series without too many problems. This Gladius kept that reputation, and the new engine was a dependable addition. If anything, the overall finish on the SFV560 was an even higher standard.
The bike went for around £4500, but it had the quality of much more expensive offerings.
We Buy Any Bike
Here at SellYourBikeToday.com, we're always interested in buying your bike.
You might have changed your riding use or want to splash out on a real powerhouse. Whatever the reason, if you're looking to 'sell my bike,' then contact one of our friendly team today and see how we can help you.