At the start of the New Year, it's a period of change for a lot of people and motorbike owners are no different. If you're looking to sell your bike, and upgrade to a reliable all-year-round motorbike, we've got you covered.
Read on for some great, all weather bikes from the last couple of years:
2021 KTM 390 Duke
If you consider yourself part of the Orange Brigade, this one is for you. Not only does it boast the classic vibrant branding that people know and love, but it's one of the most enjoyable rides we've seen for quite some time.
We love all the sports features that are included, from the brakes by Brembo with Bosch ABS to the WPRacing shocks.
The comfort of the seat is another big selling factor. Even the most loyal KTM fans will admit that the bikes have not always been that comfortable. Well, the 390 Duke finally breaks this pattern!
Finally, the bike boasts agile performance, and it is impressively lightweight. Although it's a sport standard, it almost qualifies as a supermoto.
2022 BMW G310 GS
Small and unassuming, this motorbike is a real gem from BMW. It pushes out 34 HP and 20 lb-ft of torque, which puts it at the middle to high RPMs.
You'll have no issue cruising at motorway speeds, as this BMW motorbike has a 2.9-gallon tank that delivers up to 75 miles per gallon. The maximum top speed is 88 MPH.
What also makes this bike an exceptional commuter is that, unlike the naked G310 R, the GS version comes with an integrated rear rack, ABS as standard, a small front wind deflector, and a seat that's a little bit higher with an improved cushion.
Finally, you can expect somewhat of a smoother ride due to the slightly retuned suspension, which means it is not as stiff or aggressive as the R.
2022 Honda CB300R
We can't talk about the best all-year-round motorbikes without mentioning the CB300R from Honda. This is a small bike, but boy, is it fun.
It weighs just 320 lbs, and it has a 286cc single that delivers just over 30 HP.
For all-year-round users, this means you have a bike that is surprisingly fast and incredibly agile. And while the KTM cushion may be impressive, you'll struggle to find one that's better than Honda's.
At just under 2.6 gallons, the fuel tank is a little bit on the small side. However, at almost 80 MPG and with 185 to 200 miles per tank, it's nothing to sniff at.
If you're looking for a motorbike that you can use to commute during the week and for fun on the weekends, this is a good choice.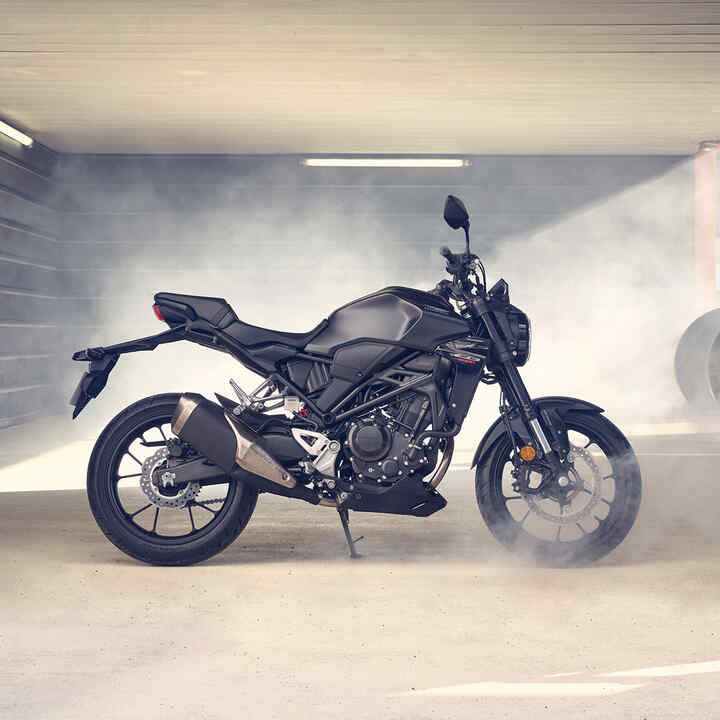 2022 Triumph Tiger Sport 660
The new middleweight sport-tourer. It's spacious, agile and easy to manage with a sporty feel, tyres that grip perfectly in all conditions and powerful brakes.
As well as it's fantastic specs, the running costs are unbeatable
'Record maintenance interval of 16,000 km, reduced maintenance times in the workshop and competitive price make this bike very accessible also from the point of view of running costs.' – Triumph Motorcycles
Above are our top picks from the last couple of years, but let's briefly list some awesome old faithful's:
Honda Blackbird
Suzuki GSXR 1000
Kawasaki GTR1400
BMW R1150RT
Triumph Tiger 800
Honda NC750X
Kawasaki Versys 650
Yamaha Fazer
Honda Deauville
We buy any bike; sell your motorbike for a brand-new model
If you want to upgrade to one of the motorbikes mentioned above, you'll first need to sell your current model.
You'll be pleased to know that we buy any bike, ensuring a quick and fair deal. Please do not hesitate to get in touch with us today for more information.