The latest Kawasaki Versys 650 version was released in 2022. It showcased some new features and design adjustments to align with the modern age but was not a redesign. It was a perfecting-and-tweak type of redo, and given that the Versys 650 has been a favourite for many, that's all that was needed. If you're looking to buy a bike with reliability and fun, the Versys 650 could be for you, so let's have a look at why.
The Basics
What keeps people coming back to the Kawasaki Versys 650 is that it's a simple but fool proof midrange bike. The twin parallel 649cc engine obviously doesn't get you the power you should expect from the larger 1000cc, but it gives you all that you will need for everyday roads. It has the staying power for long journeys, with enough ability in its pocket to get you out of tricky situations. It also feels incredibly lightweight, so pulling it off the stand or getting the manoeuvrability as you ride isn't a problem. It's a surprisingly fun ride.
The bike feels large, with wide handlebars, high position, and a relaxed riding style – great during your commute, but if you wanted to take it on road trips across the mountains, it would see you there and home again with no problem and no back ache. Part of the comfort comes from a well-padded seat and its shape. As mentioned above, the seat position is quite high, allowing you to see over traffic, but the seat's shape narrows at the front, making it easy to get your foot down when still.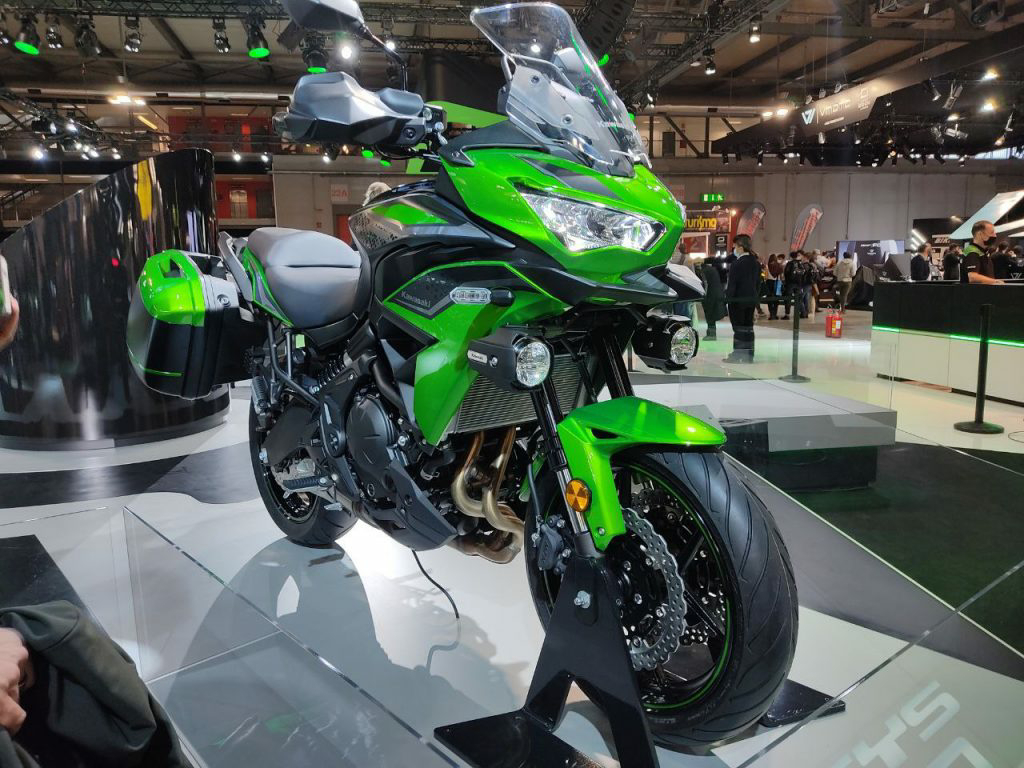 The Tech
If you're looking for many tech and ride options, then this isn't going to be the bike for you, and you're better off looking for your best bike buyers option. However, the instruments and dials have been upgraded to give a more high-tech appearance, and more features are available than on the previous model. You should now be able to integrate your smartphone, for instance. Thankfully, they have kept the fuel gauge on display – a feature many manufacturers seem to be skipping out on.
A big change is the introduction of two traction control options. You can choose a sportier style or something more appropriate for poor road conditions – making the Versys 650 a more flexible touring bike.
The breaks could be harder, but they're decent and have ABS as standard. The suspension is adjustable – again, it's basic but adequate.
The screen and cowl have been redesigned for this latest release to be more in line with the rest of the family styling. As a result, there's better wind protection which leads to even greater comfort when riding, particularly over long distances, and according to the Kawasaki specs, you can get 56 miles to the gallon, and the tank holds 21 liters – so you're going to be able to go a good distance with this bike.
Conclusion
The latest release of the Kawasaki Versys 650 looks like a great bike and seems to have been improved with a few tweaks. The frame and design alterations have improved riding comfort, and the extra tech features haven't overwhelmed the simple feel of this bike. It's still a basic, good bike to ride, but now it's likely to appeal to more people and on more roads.
So, ultimately, if someone says to you, "Hey, I'm looking to sell my motorbike!" and you're tempted by the offer (unless you're purchasing one brand-new, of course), then know that it would do well for daily travel, be great as a first bike when you've passed your test, and is likely to be a well-loved touring bike.