Are you wondering what the differences are between the Triumph Street Triple and the Triumph Speed Triple motorcycles? Perhaps you're looking to invest in one but you are unsure which would be best? This article will explore the main differences of each so you can determine which bike would be most suited to you!
Triumph Motorcycles are the largest owned manufacturers of motorcycles in the United Kingdom. They have produced many amazing, high quality motorcycles which include both the Triumph Street Triple and the Triumph Speed Triple. Both bikes are built to exceptional standards and have been created for similar purposes: to navigate easily through traffic and to perform smooth turns on corners. Both motorcycles have an array of wonderful qualities but there are a few differences in the bikes. Let's take a detailed look at both bikes.
The Triumph Street Triple is known for its handling characteristics and its great breaking system. It is a stylish, sleek looking bike with two twin headlights, a flat handlebar and adjustable handles. It offers an analog and digital tachometer, fuel gauge and gear indicator. It was designed for riders of different sizes and the wide seat provides comfort and stability. It has a 765cc triple engine. The Street Triple is great value for money, offering a sporty design, with a lightweight feel.
There are different models of the Street Triple which provide different specifications. They include the Street Triple RS, the Street Triple 765 MOTO2™ Edition and the Street Triple 765 R.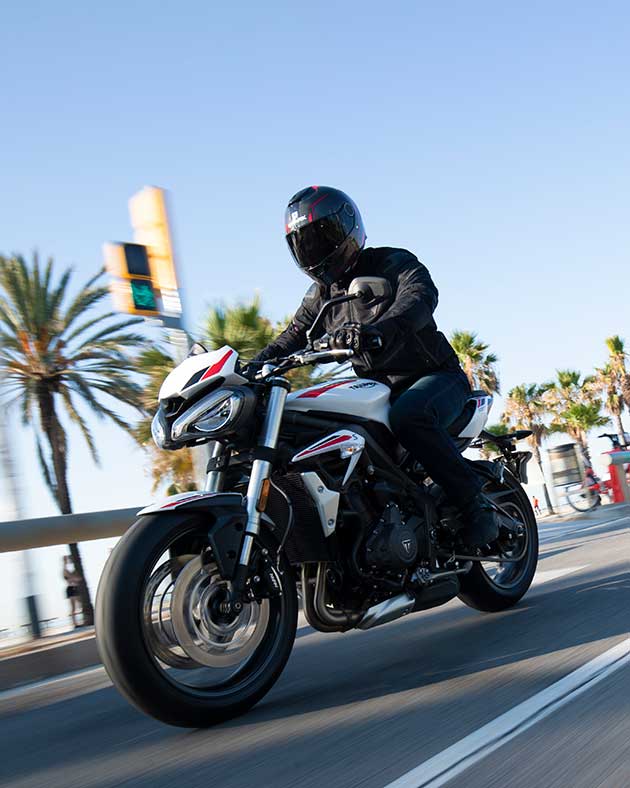 The Triumph Speed Triple is another high-quality bike offering a great performance. It has been designed for use on the road or the track. It has a high capacity 1160cc triple engine. The motorcycle offers 5 customisable riding modes which include; Rain, Road, Sport, Track and Rider Configurable, and you can switch between them via a dedicated button on the handlebars. You can hook up your smartphone with the My Triumph Connectivity System which is fitted as standard and can use Google navigation, GoPro and more. It has full LED lighting with distinctive headlights and offers a stylish and smart looking motorcycle.
The current available models include the Speed Triple 1200 RS and the Speed Triple 1200 RR.
The Street Triple and the Speed Triple are two well-made, high-quality motorcycles offering great performance. The Speed Triple is a heavier bike than the Street but this makes it more powerful with more torque. The Street Triple on the other hand, is more lightweight with less torque in comparison. The lightweight feel of the Street Triple makes it feel a little easier to manoeuvre for some, than the Speed Triple. The Speed Triple with its larger engine size packs a powerful punch in terms of power but the Street Triple still offers a powerful performance. There are of course, differences in price with the Speed Triple being more expensive. This is down to it having additional features and a bigger engine size. The Street Triple, at a lower cost, still has amazing qualities making it great value for money.
In order to determine which motorcycle is for you, it is certainly worth booking a test drive which will enable you to experience the individual feel, characteristics and performances of both motorcycles.
We guarantee to offer a simple and straightforward and safe way to sell your bike, at a good price. With immediate payment and free nationwide collection in the UK and Northern Ireland within 24 hours.
If you want to sell your Triumph Street Triple or Speed Triple, even with finance outstanding, we can help.