Adventure riding – wide open plains, gravel tracks, beautiful scenery and hardly anyone around.
For many motorbikes exemplify freedom, and adventure rides bring that to the fore like no other. But, to get the most out of your day (or months), you need to have the right bike. An adv bike has to be able to go on paved and non-paved roads easily, have a strong frame to carry all the gear and have a good tank size to fuel consumption ratio so you can travel miles. It should be robust, reliable and easy to maintain.
So does the Honda NC750X hold up? Read on to see.
Honda NC750X Specs
Engine: Liquid-cooled 4-stroke 8-valve SOHC parallel 2-cylinder; 754cc; PGM-FI electronic fuel injection
Transmission: 6-speed manual transmission
Suspension: 41mm telescopic fork at front; Monoshock damper pro0link swingarm at back.
Brakes: 320mm single wavy hydraulic disk with 2-piston caliper, ABS at front; 240mm single wavy hydraulic disk with single piston caliper, ABS at back.
Fuel Capacity: 14.1 litres
Seat Height: 830mm
Ground Clearance: 165mm
Kerb weight: 218kg
The good news? New colours were introduced in 2023.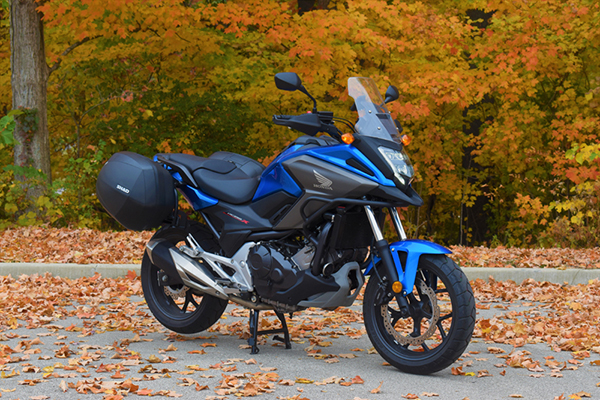 Is it an Adventure Bike?
Honda released the NC750X in 2014 in their adventure bike category. The main changes to consider were done in 2021. Tweaks to the engine mean an extra 2kW of power, so the red line is now at 7000rpm. Honda also boosted acceleration at lower speeds by lowering 1st, 2nd and 3rd gears. These changes mean that the NC750X now has a much sportier feel when riding.
There are some good adventure bike credentials though. The tubular steel frame was redesigned to be 6kg lighter, the seat was lowered to give a more comfortable ride, and the generally low centre of gravity makes the bike easier to manoeuvre. Honda has also made the controls and user setups, mode adjustments, etc., very easy to use and play around with. You might not use their set-ups as intended, but it's easy to play and see what works. As they're so easy, they have limited setting up User Mode to when the bike is stationary.
A standout feature of this bike is the amount of storage available in the body. It has been redesigned with enough room to fit a large helmet. This is great for longer journeys when you need all the room you can get for your gear.
However, the Honda NC750X used to have long travel suspension needed for bumpy roads but this has been shorted significantly – putting it more into paved road only category. The chassis has also been lowered slightly so that it hugs the ground when cornering or going at high speeds. The suspension isn't good enough for dirt tracks, but perhaps a little gravel.
Overall this bike has great handling, easy maintenance and is surprisingly comfortable no matter your size or build. It's incredibly practical with great storage. Its light build and powerful-enough engine mean you're unlikely to get into trouble on the roads. It's a great all round bike and does many things well. However, if you're looking for adventure bike that does more than slight gravel, it's probably not for you. We're talking about a good touring bike here, or an urban commuter with adv styling.
Sell your NC750X today
If you would like to sell your Honda motorcycle today, we will buy any bike. We provide individual quotes for each bike and we take into consideration any upgrades that you've made to your bike. This means that we actually offer the best prices on any make or model!